These 4 ingredient No Bake Chex Bars are an easy to make with your favorite Easter candy, affordable sweet treat that is perfect for your Easter celebration!
Suitable for vegetartian and gluten free diets.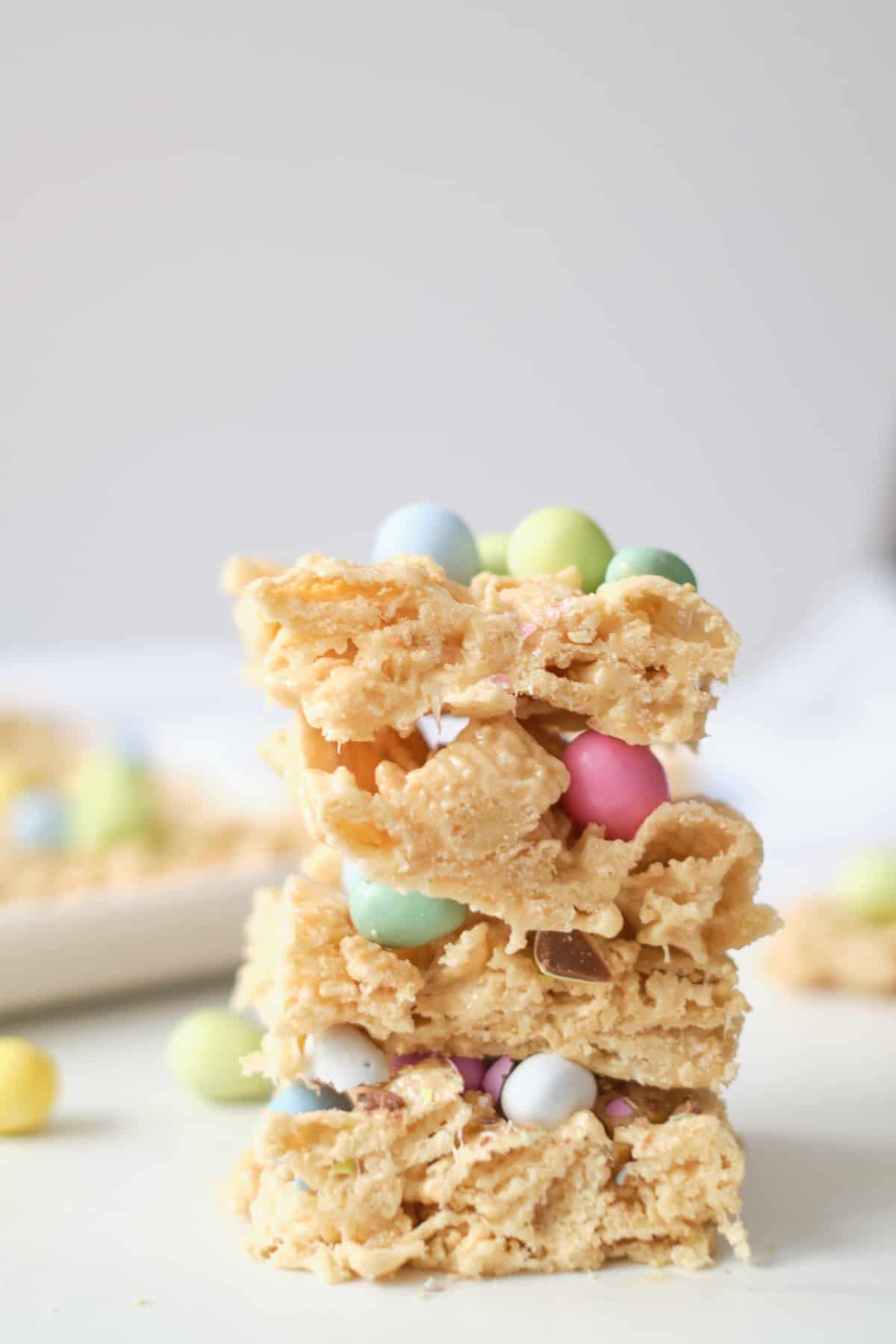 Everybody loves mini eggs, and these cereal bars give you a whole new way to enjoy these delicious easter candies. Cereal bars are perfect for snacking on, and they keep well for several days. Pop them in your kid's lunch box, pack them for a hike, or serve them as an afterschool snack.
Made similarly to crisped rice bars, these Chex Cereal Bars are a real treat for kids who will love getting in the kitchen to help you make them. There's no baking involved; just be sure a grownup assists with melting the marshmallows.
Make these before Easter or wait until after the holiday and make them using the leftover candy. PS, why not make these Easy Cracker Candy, Mexican Paletas (the best fruity popsicles) to go along with this treat.
Why Make This Recipe
Fun for Kids – This is a great starter recipe for kids looking to help out more in the kitchen.
Frugal – Use leftover Easter candy.
No-Bake – No baking is required. Just melt, mix and pour.
Ingredient Notes
Chex cereal – We're using rice Chex, but you could also use corn Chex.
Mini Marshmallows – White marshmallows are perfect, but colored marshmallows would make these cereal bars a lot of fun.
Butter – Regular butter works fine, but you can use unsalted as well.
Mini Eggs – This popular Easter candy is gluten-free!
How To Make No Bake Chex Bars
Get full ingredients list and instructions from the recipe card below.
In a large saucepan, melt butter and stir in the marshmallows mixing until they are melted.
Pour the marshmallow mixture over the Chex cereal and stir to combine.
Press the cereal into a parchment-lined pan.
Top with mini eggs, pressing lightly, so they stick to the cereal.
Let sit 2 hours before cutting.
Tips For Success
Have an adult melt the marshmallow and butter as the mixture can get very hot.
Wet your hands when pressing the cereal bars to prevent sticking.
Pop the whole sheet of cereal bars out of the pan before cutting into individual treats.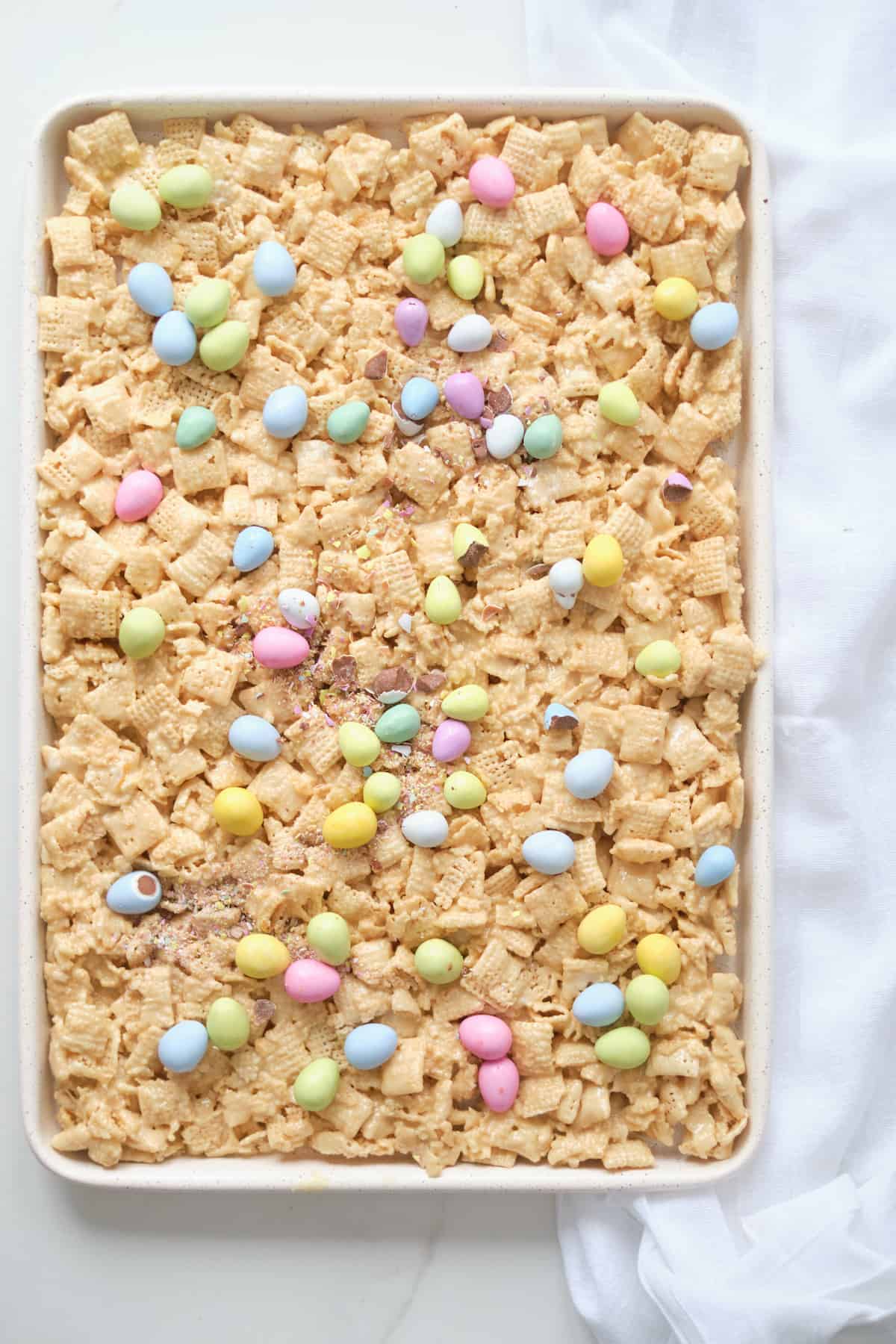 Delicious Variations
Add More Candy – Mini Eggs are really popular, but you can add any of your favorite Easter candies.
Use Corn Chex – Use corn Chex instead of Rice Chex.
Drizzle with Chocolate – Melt a little chocolate and drizzle it over the cereal bars.
Budget-Friendly Tips
Buy Candy After The Holiday – Candy is often marked down in the day or two following a holiday. Hit the store early and stock up on your favorites at a fraction of the price.
Watch for Sales – Many stores offer sales on cereal regularly. You can also find coupons or discounts on shopping apps.
Buy Generic – Store-brand or generic cereals are an inexpensive option.
Freeze Marshmallows – Marshmallows can be frozen for up to four months. This recipe is great for using old marshmallows that have become sticky in the bag.
Make Ahead And Storage
Prep Ahead – Make these the day before a party or gathering.
Store – Leftovers can be stored in an airtight container on the counter. Eat them within a few days, or they will dry out and become stale.
Freeze – Follow the handy tips below for how to freeze these;
Wrap cereal bars in plastic wrap and store them in the freezer for up to four months.
Defrost on the counter for about 30 minutes.
The candy coating on the mini eggs can get a little sticky when defrosting.
FAQs
Are These Gluten Free?
Rice and Corn Chex are both gluten-free. Cadbury Mini Eggs are also gluten-free. If you buy other cereal or candy brands, you will need to check those individual packages to be sure.
Can I Use Other Cereal?
The crunch and texture provided by the rice Chex are delicious, but you could certainly substitute in your own favorite cereal. Using a mix of leftover cereals from the bottom of several bags is also a great money-saving tip.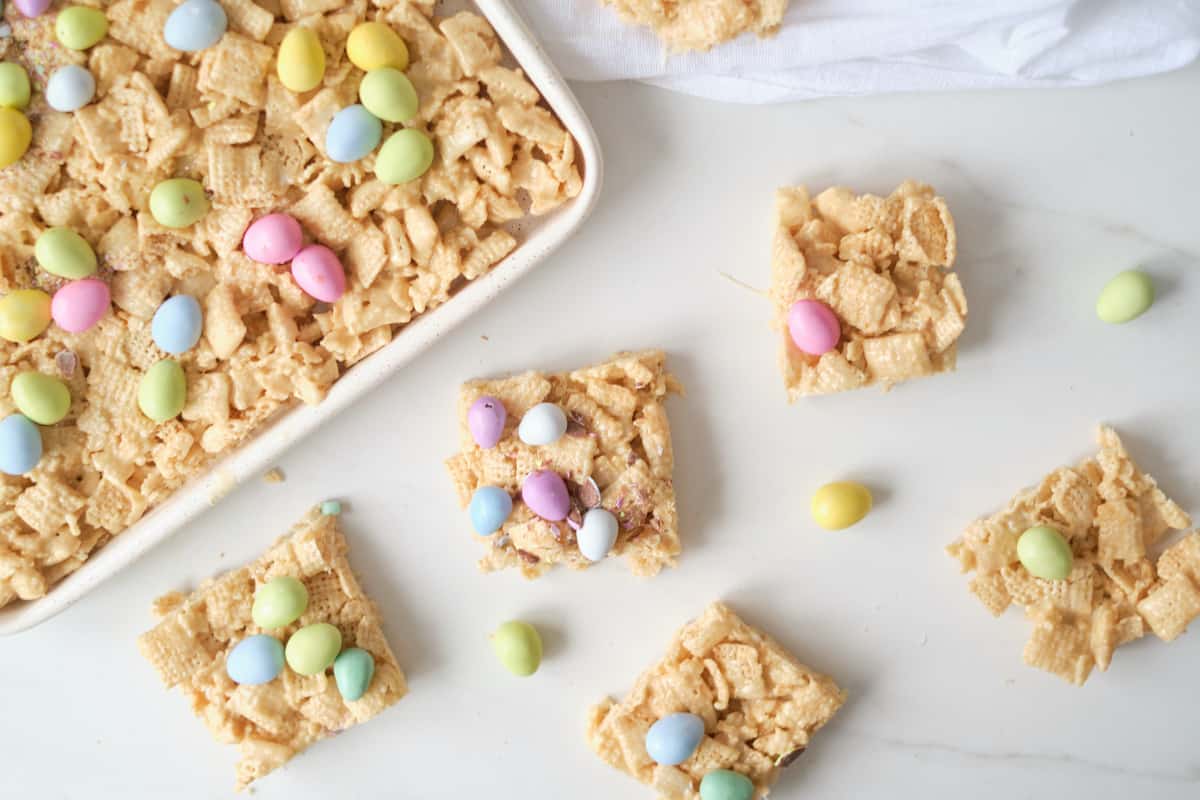 More Recipes You May Like
Tools To make This
Get The Easter No Bake Chex Bars Recipe: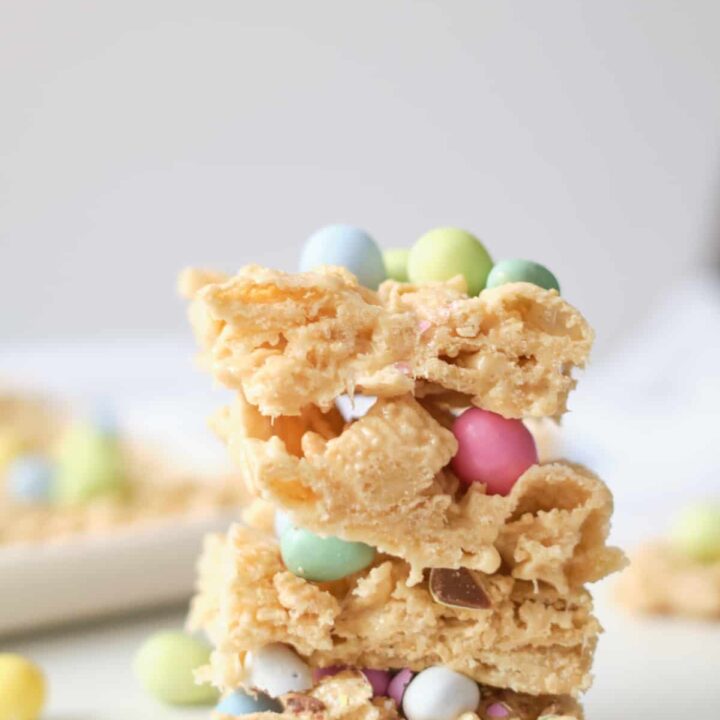 Ingredients
Instructions
Over medium heat, combine butter and mini marshmallows in a

saucepan

, stirring until melted.

Remove from heat and add the cereal, string quickly to thoroughly coat.

Spread the mixture out in a baking pan or a parchment-lined tray, gently patting down to evenly distribute and flatten.

Add mini eggs on top of the mixture.

Allow to set for up to 2 hours before cutting into squares.
Nutrition
Calories:
303
kcal
|
Carbohydrates:
44
g
|
Protein:
3
g
|
Fat:
14
g
|
Saturated Fat:
8
g
|
Trans Fat:
1
g
|
Cholesterol:
23
mg
|
Sodium:
261
mg
|
Potassium:
33
mg
|
Fiber:
1
g
|
Sugar:
25
g
|
Vitamin A:
620
IU
|
Vitamin C:
5
mg
|
Calcium:
110
mg
|
Iron:
6
mg