Chicken wings are a favorite restaurant appetizer and sports bar food, but they are also so easy to make at home and there are a ton of great recipes. This guide will give you the answer to questions like how many wings in a pound along with other important info to help you cook tasty chicken wings.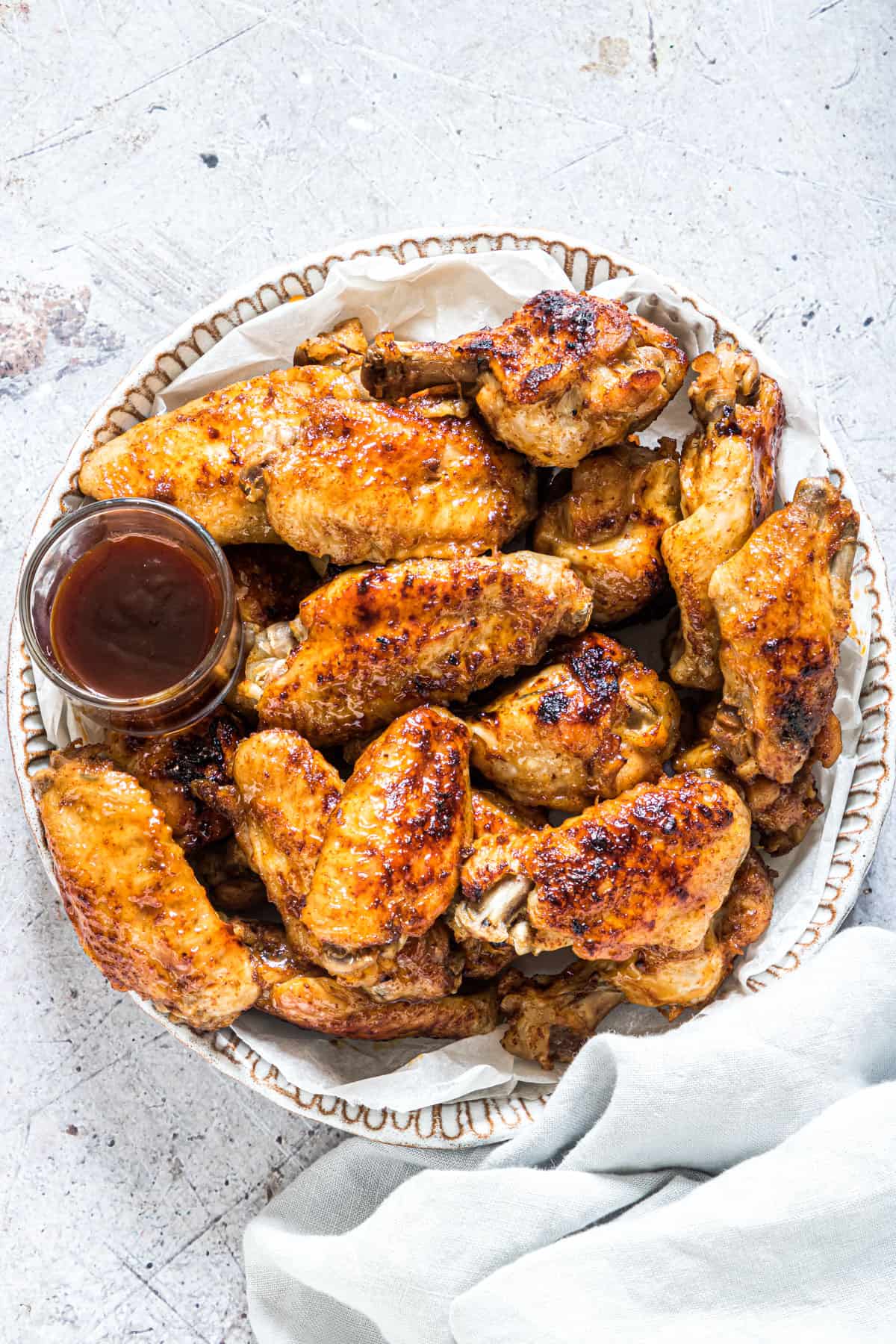 Friends, before you fire up the grill, preheat your oven, or pull out your air fryer, check out this short guide for how many chicken wings in a pound. Whether you are serving wings as an appetizer or a main dish, you'll know exactly how many to make so all of your guests are satisfied. 
Crowd pleasing chicken wings can be tossed with any number of popular chicken wing sauces and are the perfect addition to your super bowl party or served as a family dinner.
From these family-friendly Lemon Pepper Wings and Grilled Chicken Wings to zesty Honey Hot Wings and Korean Chicken Wings, there's a chicken wing recipe for everyone!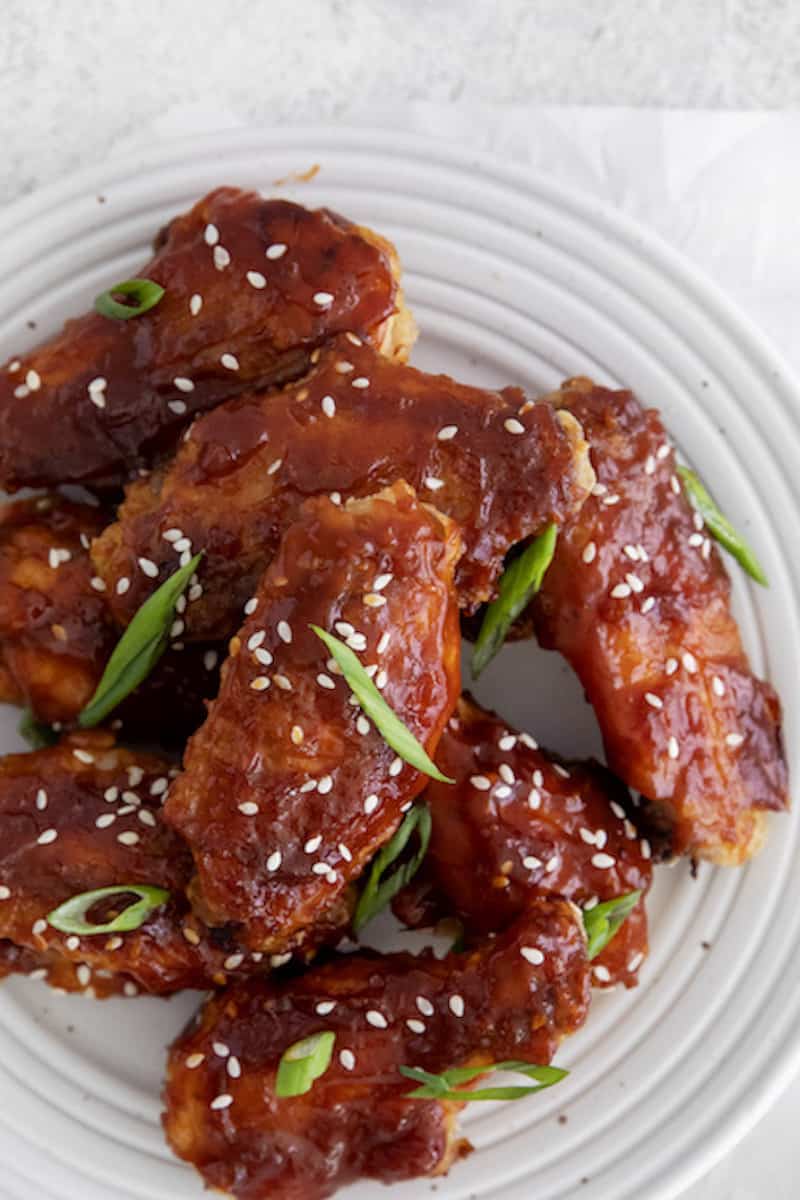 So keep reading, because this post will help you learn everything you need to know about how many wings to buy and how many wings to serve.
Brief History of Chicken Wings
Chicken wings haven't always been a beloved appetizer at bars, grills, and restaurants. Chicken wings were often considered an undesirable cut because of the small amount of meat compared to the amount of bone and skin.
In the 1960s, that all changed when Teressa Bellissimo, the co-owner of the Anchor Bar in Buffalo, New York, cut whole wings into sections, deep fried them and tossed them with a spicy hot sauce before serving them to patrons. The tasty appetizer grew in popularity and eventually became a treasured favorite of restaurant goers.
Buffalo chicken wings tossed in hot sauce are now available in restaurants worldwide and can be served buffalo style, plain, or tossed in any number of sauces.
Parts Of A Chicken Wing
Chicken wings have three parts known as the drum/drumette, the flat/wingette, and the wing tip. The drumette has the most meat, while the wing tips contain primarily fat, skin and cartilage.
Drums/Dumettes vs. Flats/Wingettes
Drums/Drumettes are the wing sections that look like a mini chicken leg. This part of the wing contains the most meat and can weigh up to twice as much as a flat.
Flats/Wingettes are oval-shaped sections with two bones and meat in the middle.
A good host usually ensures a mixture of drums and flats when serving chicken wings to their guests.
Whole Chicken Wings vs. Buffalo Wings
When you purchase wings in a restaurant, you are usually getting wings that have been cut buffalo style. This means the wings were cut into three sections. The wingette and the drumette have been separated and the wing tip has been discarded. You will be served a combination of drums and flats.
When you purchase wings in the grocery store, you can buy either whole wings or precut wings. Whole wings can make a beautiful presentation, so you may wish to cook and serve them as is. Plus, whole wings are often less expensive than precut wings, so they are a good option for the budget-minded home cook. Simply cut the wings into portions and discard the wing tips or freeze them for later use.
How Many Wings In A Pound?
Knowing how many wings in a pound will help you when planning for dinner or a party. You don't want your guest to feel hungry, and you don't want to waste money by serving more food than can be eaten. Estimating how many chicken wings in a pound is key to shopping smartly.
Here is a handy chart that shows you how many wings in a pound for different types of wings. All weights and measurements are approximate based on averages and can vary slightly.
Whole Chicken Wings (drum/flat/wing tip in tact) | 3.5 ounces each | 4-5 per pound
Wingettes | 1.5 ounces each | 8-10 per pound
Drumettes | 2 ounces each | 8 per pound
Flat and Drum Combo | 8-10 per pound
Note: Wings will lose as much as 25-percent of their weight when cooked. You may have a few extra wings per pound if you purchase pre-cooked wings. If you are buying raw wings, you may want to plan on having a few extra for the big eaters in your group.
How Many Frozen Chicken Wings In A Bag?
Frozen chicken wings are available in most grocery stores, and often, the bigger the bag, the lower the price. Not only are they more affordable than fresh chicken wings, but the work of cutting them into sections is also already done, and you can store them for months, so you always have chicken wings on hand.
Frozen chicken wings are often available in  4, 5, and 10-pound bags. The wings are usually precut into pieces so that you can estimate 8-10 wings per pound, depending on their size. Frozen wings should be defrosted completely before cooking. 
What Are Boneless Wings?
Boneless chicken wings are not actually wings but refer to smaller chunks of chicken meat that are often breaded, fried, and tossed in a sauce in a similar fashion to buffalo wings. Boneless wings are usually slightly larger than nuggets and are made from chicken breast meat or thigh meat.
How Many Chicken Wings Per Person?
Knowing how many chicken wings per pound is just the start. You also need to know how many chicken wings to serve per person. This will help you calculate your purchase, so you have enough food for the meal you serve, no matter how many people you serve.
While the general rule is one pound of wings per person, this handy chart will help you determine how many of each type of wing to serve depending on whether you are serving them as an appetizer or the main course.
Whole Wings | Appetizer | 2 per person
Whole Wings | Main Course | 4-5 per person
Wing Portions | Appetizer | 4 per person
Wing Portions | Main Course | 8-10 per person
Tips For Success
Determine if you plan to serve wings as an appetizer or main dish.
Decide whether you will purchase whole, cut or frozen wings.
Calculate the total pounds of chicken wings you need based on your number of guests.
If using frozen wings, allow them to thaw overnight in the fridge before cooking.
Save money by purchasing wings in bulk when they are on sale and freeze until needed.
Whole wings may be less expensive than precut wings.
Make sure to have a whole range of chicken wing sauces for serving. Some options include buffalo sauce, blue cheese dressing, ranch dressing, bbq sauce, honey mustard sauce, and more.
Coating chicken wings in spices before cooking adds lots of flavor.
FAQs
How Many Breaded Chicken Wings In A Pound?
Breaded chicken wings will have some added weight due to the breading, so you can expect there to be slightly fewer wings per pound. The answer to how many wings in a pound when breaded is an average of 4 whole breaded wings and 6-8 breaded wing pieces per pound.
Ways To Cook Chicken Wings?
Chicken wings are flavorful and fun, and they can be cooked so many different ways. Most restaurants serve deep-fried wings, but you can still make delicious wings at home without a deep frier. Some popular methods include baked chicken wings, air fryer wings, grilled wings, broiled wings, and even wings in your Instant Pot.
What To Serve With Chicken Wings?
When serving chicken wings as a meal, they pair well with fries or crunchy vegetables like celery and carrots. Wings can be served as an appetizer along with other finger foods. No matter how you serve them, don't forget the dipping sauces!
More Chicken Wings Recipes
Serving Suggestions