Get into the Halloween spirit and serve up this spine-chilling eyeball pasta. This easy 5-ingredient meal will take center stage on your Halloween table, and since much of it can be prepped in advance it's the perfect party fare!
Everyone loves spaghetti and meatballs, and they are going to love this monsterrific twist on a traditional favorite. Halloween dinners can be so much fun when you serve up spooky pasta and eyeball meatballs.
Kids will have so much fun eating this scary spaghetti meal. And since playing with your food isn't something mom and dad let you do every day, so this will be a meal they won't soon forget.
You can easily adapt this recipe to feed a small family and serve it before you head out for an evening of trick or treating or adjust it to serve a crowd of people for a Halloween party. You just know this festive dish is going to be talked about for weeks!
Why Make This Recipe
Fun – Who's going to win in a staring contest, you or the meatballs?
Healthy – Spaghetti sauce is full of veggies and meatballs add just the right amount of protein. Plus, the pasta will give you lots of energy to enjoy a night of tricks and treats.
Simple – Use premade (or leftover) meatballs and jarred sauce for easy shortcuts.
Ingredient Notes
Spaghetti – Spaghetti is a wonderful pantry staple, and you can use regular or angel hair spaghetti.
Ground Beef Meatballs – Purchase these premade, frozen, or make your own from ground beef.
Marinara Sauce – Use your favorite brand of jarred sauce.
Mozzarella Pearls – Also called bocconcini, mozzarella pearls are usually found in the fresh cheese section.
Black Olives – Use whole, halfs, or sliced.
How To Make Halloween Spaghetti
Get full ingredients list and instructions from the recipe card below.
Bake meatballs on a baking sheet in a 400F /200C oven for 12-15 minutes or until cooked through.
While the meatballs bake, bring a pot of water to boil and cook the spaghetti according to the package directions.
When the meatballs have cooked, top each with a slice of mozzarella and a piece of olive to make them resemble eyeballs.
Drain the spaghetti and arrange it on a platter before topping it with the sauce and the meatballs.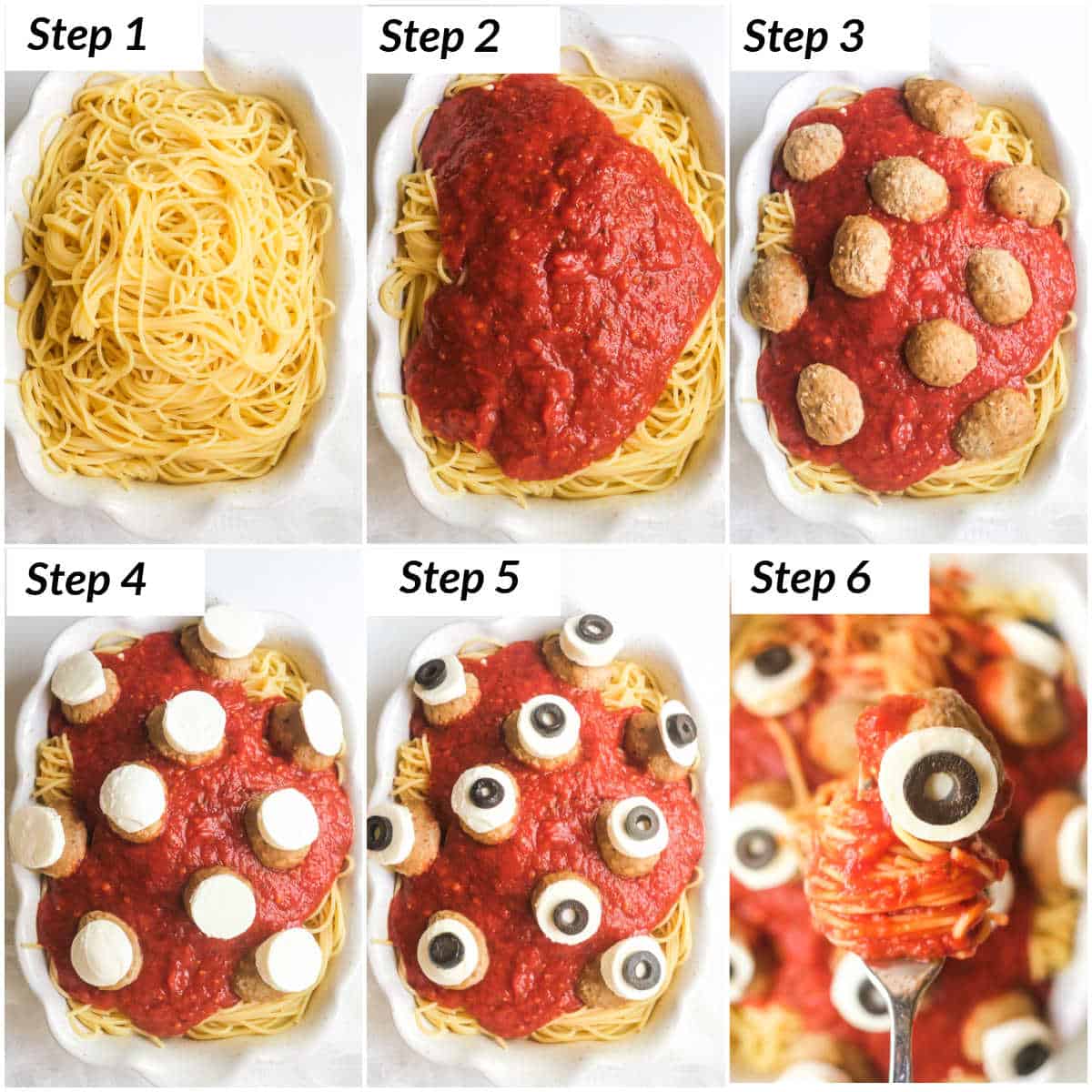 Tips For Success
Prepare the cheese and the olives while the meatballs cook.
Allow the meatballs to cool slightly before adding the cheese so it just melts, and you will have a better eyeball effect.
Sauce the pasta, add it to a serving platter and add the warm meatballs before adding the cheese and olives.
Don't forget to warm the sauce before adding it to the Halloween pasta.
Variations
Turn The Spaghetti Black – For an even spookier version of this already spooky pasta add black food paste colorant to the water when cooking the spaghetti. You can also use other spooky colors like purple, orange or green.
Use Black or Green Olives – No need to buy special olives, just use what you have on hand.
Skip The Meatballs – Make a meat sauce (or go vegetarian and just use marinara) and top with whole mozzarella pearls and olive "eyes".
Use Pesto – Swap the marinara for pesto for a flavorful twist on this fun eyeball pasta.
Get More Veggies – Use zucchini noodles instead of pasta.
Budget-Friendly Tips
Look For String Cheese – Mozzarella pearls are a little expensive and you can get a very similar effect using string cheese. Simple slice the string cheese into disks before topping the meatballs. You may need to cut your olives into smaller pieces.
Use Leftover Meatballs – This is a fun recipe to use leftover meatballs. You can easily freeze leftover meatballs as well.
Keep A Well-Stocked Pantry – Pasta noodles, marinara and olives all keep well in the pantry for a long time. Keeping your pantry stocked will cut down on trips to the store.
Prep Ahead And Storage
Prep Ahead – Make the meatballs in advance and prepare the cheese and olives the day before. Simply cook the pasta and warm the sauce before assembling the dish.
Store – Leftovers can be stored in the fridge for up to 3 days.
Freeze – The finished recipe doesn't freeze well, but meatballs do. Always make a double batch and freeze for later use.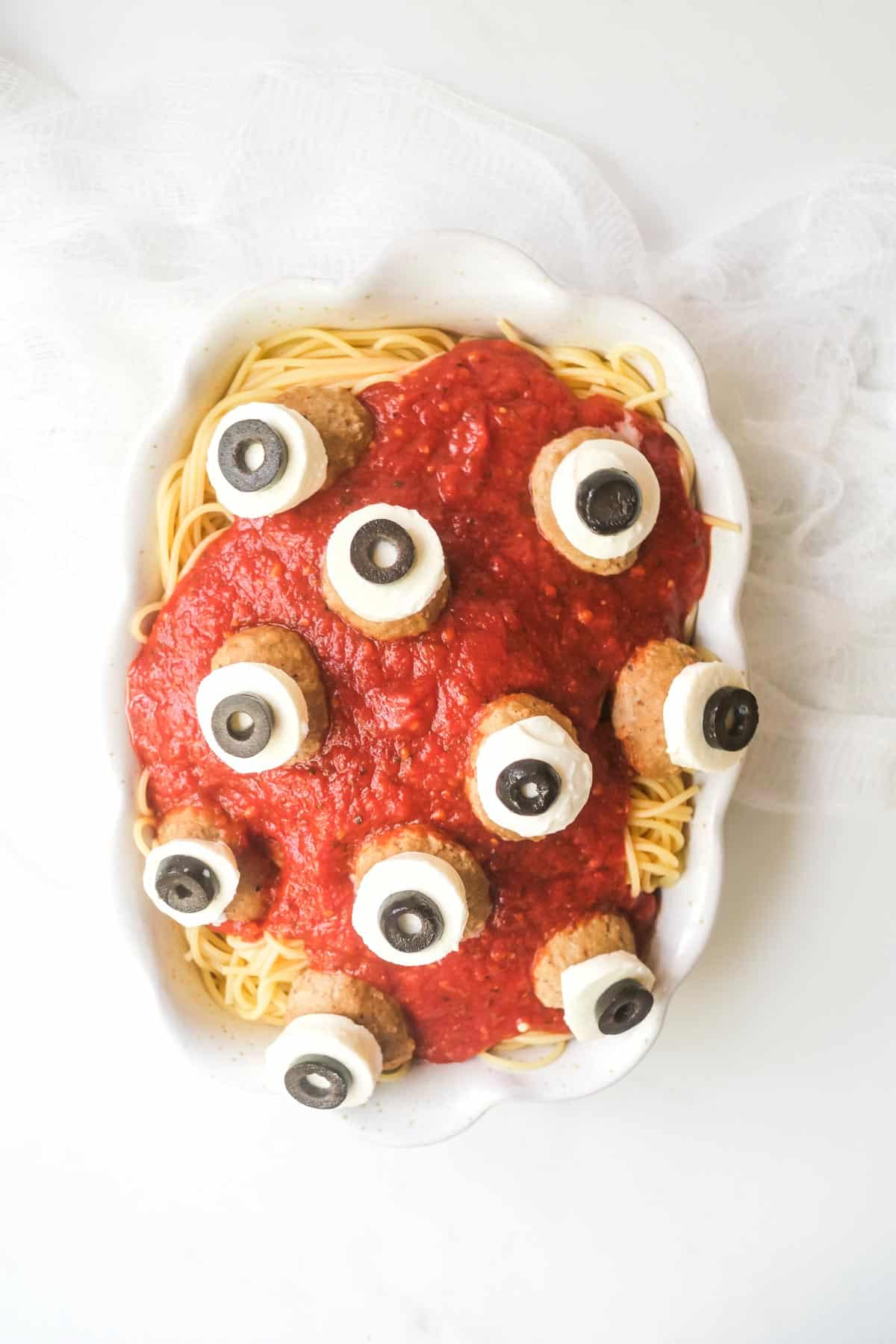 Meal Prep
Pre-cook the meatballs and store them in the fridge for up to 3 days, then reheat and assemble just before serving.
Enjoy the leftovers for an easy lunch the next few days.
FAQs
Can I Cook The Spooky Pasta In Advance?
The meatballs and sauce needed for this recipe can easily be prepared in advance. Sometimes, the texture of pasta can change when you cook it and reheat it, so we recommend that you cook it just before you are ready to serve this dish.
How Can I Make Healthy Halloween Spaghetti?
It's easier to make this dish a little healthier with a few simple swaps. Use whole-grain spaghetti or zucchini noodles in place of the pasta. Make meatballs with lean beef or ground turkey or chicken for less fat.
Serving Suggestions
More Haloween Recipes You May Like
Get The Eyeball Halloween Spaghetti Recipe:
Eyeball Halloween Spaghetti
This 5 ingredient pasta is perfect for serving on Halloween night.
Print
Pin
Rate
Save Recipe
Saved!
Cost:
Under $3 per serving
Ingredients
1

pound

(450g) spaghetti

1

pound

(454g) ground beef meatballs

1 ½

cups

(337g) marinara sauce

warmed

5

mozzarella pearls

(bocconcini), sliced into small circles

1

handful

black olives
Instructions
Preheat the oven to 400F /200C and line a rimmed baking sheet with some lightly oiled parchment paper.

Place the meatballs on the baking sheet and bake for 12-15 minutes, until cooked through. Take out of the oven and set aside.

Meanwhile, bring a large pot of salted water to a boil, add spaghetti and cook according to package directions. Drain well and transfer to a serving platter.

Pour warm marinara sauce over spaghetti, then scatter with meatballs.

Place a mozzarella pearl on each of the meatballs, and then top with each with an black olive so they resemble eyeballs.
Notes
Prepare the cheese and the olives

while the meatballs cook.

Allow the meatballs to cool slightly

before adding the cheese so it just melts, and you will have a better eyeball effect. 

Sauce the pasta, add it to a serving platter, and add the warm meatballs

before adding the cheese and olives. 

Don't forget to

warm the sauce before adding

it to the Halloween pasta. 

Storage – keep leftovers in an airtight container inside the fridge for up to 4 days.
Nutrition
Calories:
550
kcal
|
Carbohydrates:
60
g
|
Protein:
28
g
|
Fat:
22
g
|
Saturated Fat:
8
g
|
Polyunsaturated Fat:
1
g
|
Monounsaturated Fat:
7
g
|
Trans Fat:
1
g
|
Cholesterol:
62
mg
|
Sodium:
445
mg
|
Potassium:
577
mg
|
Fiber:
3
g
|
Sugar:
5
g
|
Vitamin A:
278
IU
|
Vitamin C:
4
mg
|
Calcium:
123
mg
|
Iron:
3
mg