Making oven baked chicken tenders at home is easy, affordable and a healthier alternative to fast food. The tasty marinade and crispy bread coating will provide you with incredibly flavorful and juicy baked chicken strips that are perfect for kid-friendly lunches or weeknight dinners.
Post includes Weight Watchers points.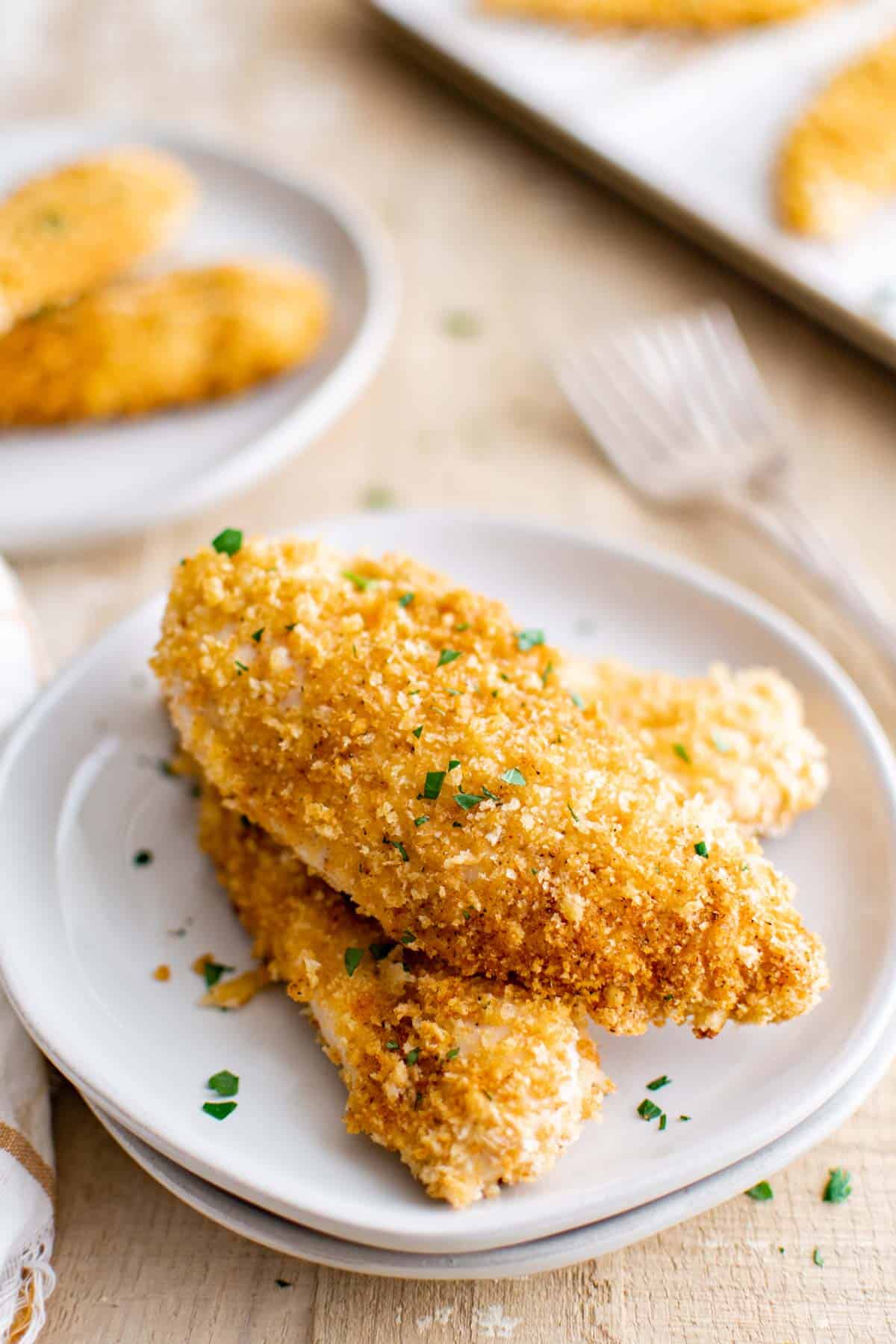 Crispy, crunchy, golden oven baked chicken tenders are a fan favorite in my house. You get all the flavor of delicious fried chicken without the oil, which makes these oven fried chicken strips a winner for both kids and adults alike.
Easy Breaded Chicken Tenders
Breaded chicken tenders are the perfect weeknight meal because they're easy to prep and cook in about 20 minutes.
Plus, you can use the leftovers for lunch and snacks the rest of the week, which means you can skip the fast food line and save money at the same time.
Like my easy Honey Garlic Chicken Tenders and well loved Instant Pot Chicken Tenders, Baked Chicken Tender in oven really is the ultimate finger food.
And if you you pair them with fries and everyone's favorite dipping sauces, then you are on to a winner! This is one of my favorite go to recipes.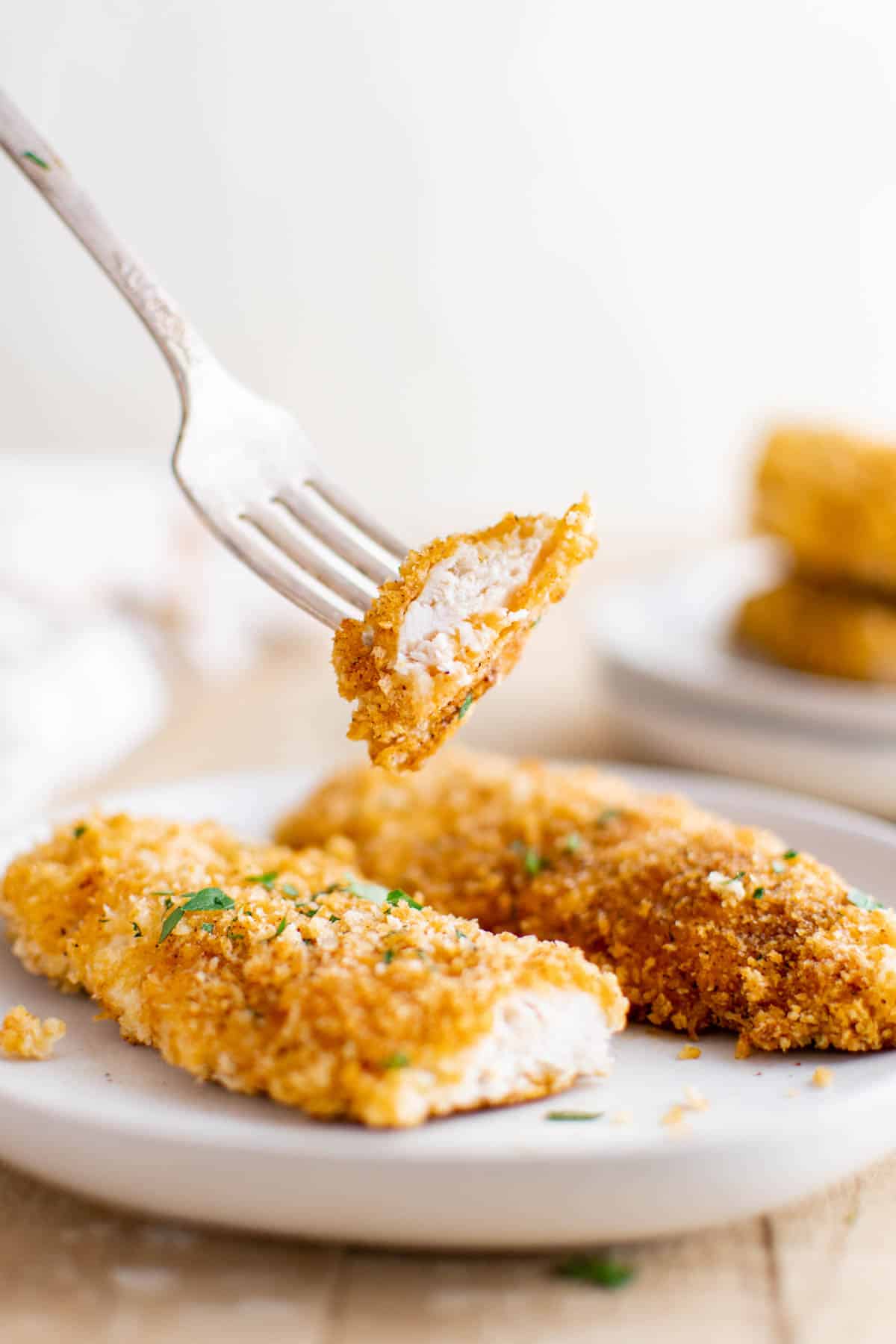 Why Make This Recipe
Healthier – Making baked chicken tenders in oven without oil mean they are a healthier option than deep frying but still with a crispy coating.
Ultimate Finger Food – Serve with a variety of dipping sauces for dinner, snacks, lunch, at parties, and on game day.  
Kid-Approved – Kids love those restaurant and fast food chicken strips. Making them at home will save money and time. 
Ingredient Notes
Chicken – Look for chicken tenderloins, or you can cut chicken breasts into chicken strips.
Mayo Batter – A wet batter made with eggs, Dijon, mayonnaise, and water will help the breading stick and gives these baked chicken tenderloins great flavor.
Flour  – Use all-purpose flour.
Breadcrumbs – Panko breadcrumbs create an incredibly crunchy coating, but you can also use traditional breadcrumbs. 
Seasonings – This recipes uses paprika, garlic powder, onion powder, salt and pepper. You can use your favorite seasoning blend instead.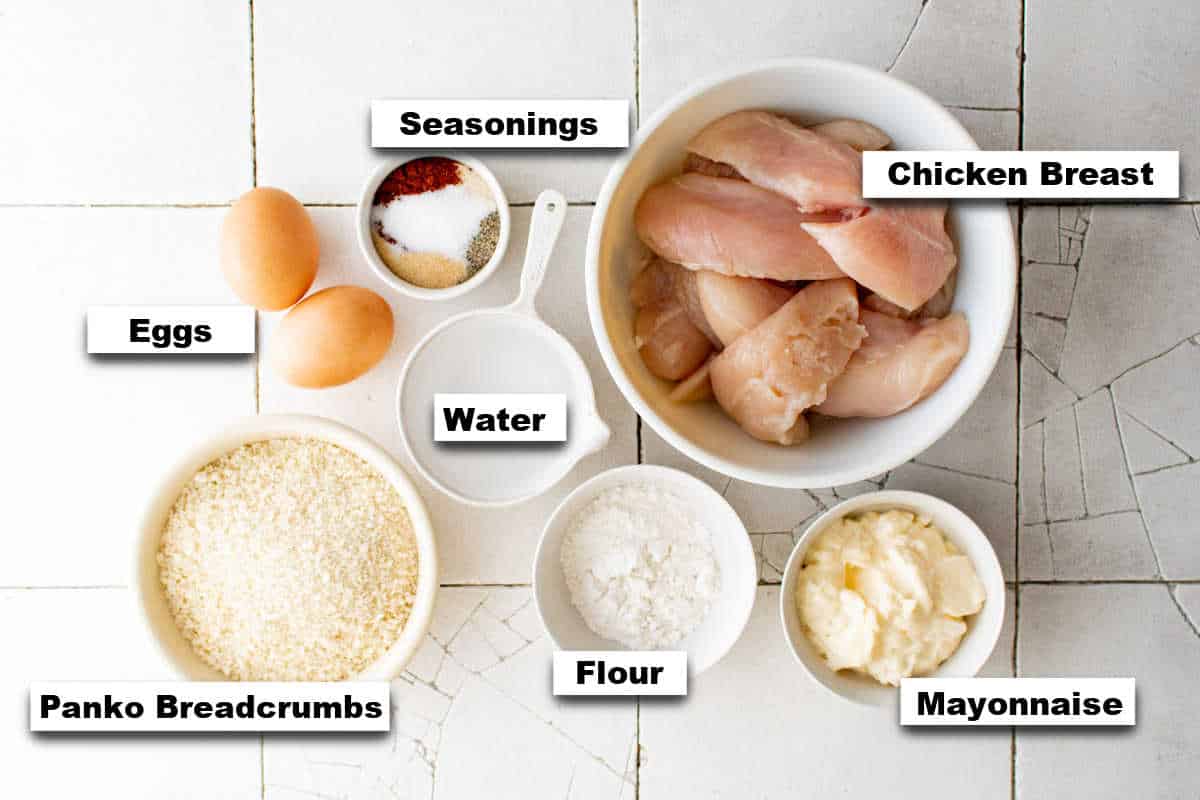 What Are Chicken Tenders?
Chicken tenders are a family favorite and kids love them, but what are they?
Chicken breast tenders are known by many different names, including chicken strips, tenderloins, tenders, tendies, goujons, chicken fingers, and chicken fillets. 
Head on over to the What Are Chicken Tenderloins post to to find out what the are, how to cut them yourself, and budget friendly tips and tricks.
How To Cut Chicken Tenders
Use a cutting board and a sharp knife dedicated to poultry to prevent the spread of bacteria.
Begin by removing excess fat from boneless, skinless chicken breast.
Slice the chicken against the grain and cut it into strips of equal length and thickness.
Wash your cutting board and knife with hot, soapy water.
How To Make Baked Chicken Tenders
Get full ingredients list and instructions from the recipe card below.
Dry the chicken pieces with a paper towel and prepare a baking sheet lined with parchment paper.
Using two dishes, prepare the wet batter in one shallow dish and then combine the dry ingredients in the other. 
Dip the chicken into the wet mixture, then the dry mixture, pressing lightly to help the breadcrumbs stick.
Transfer chicken tenders onto a prepared baking sheet. Continue until remaining chicken is done.
Brush or spray the tops with a little olive oil or melted butter (optional), and bake in a preheated oven at 400 degrees F / 200 degrees C for 15-20 minutes until they are golden and the chicken is cooked through.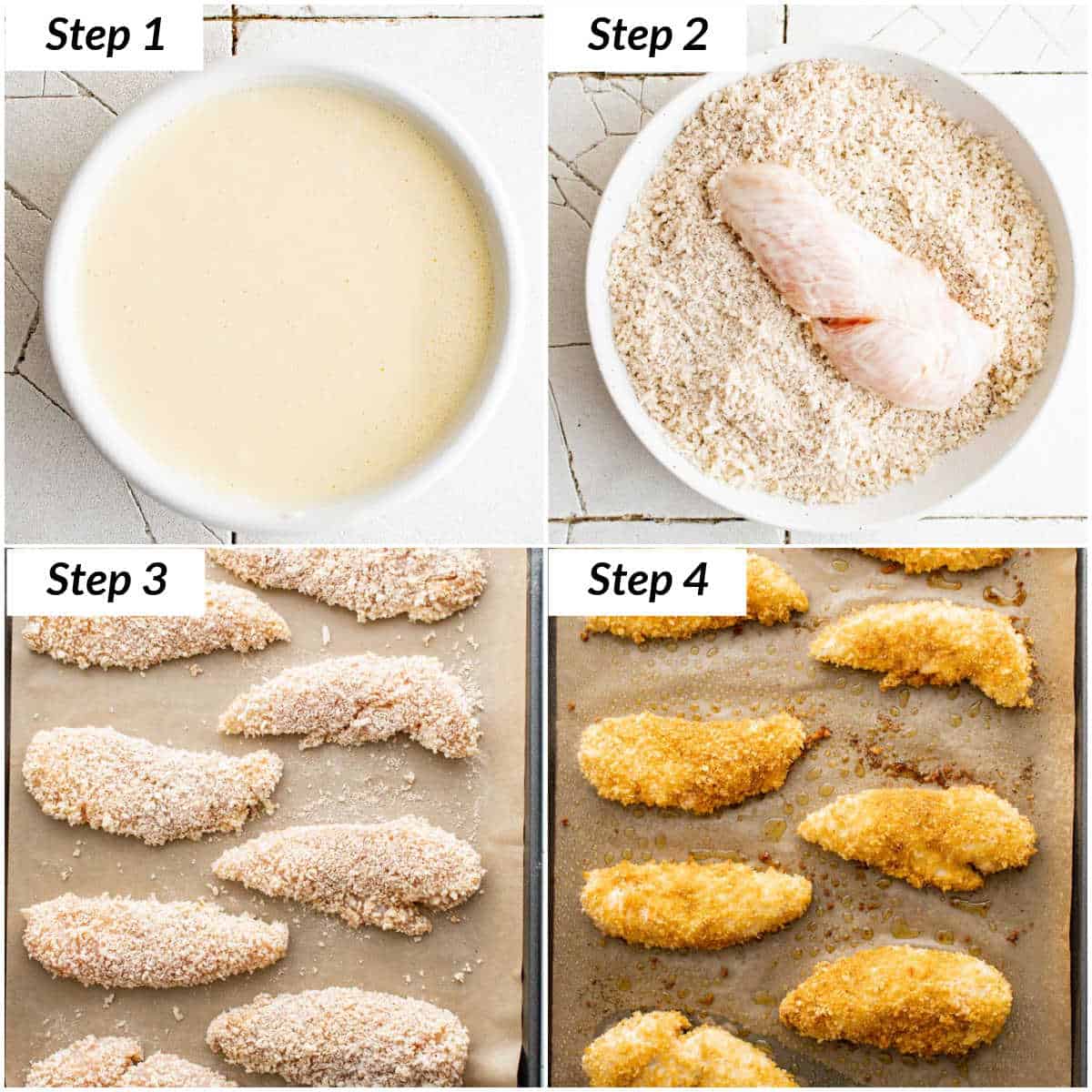 Note: It is important to always check your food for doneness using an instant read thermometer. The internal temperature should be at least 165F / 74C when inserted into the thickest part of the chicken.
Recipe Tips For Success
Cut chicken into similar-sized pieces for even cooking.
Lightly toast the panko bread crumbs in a dry skillet for an even crunchier coating.
Dry the chicken with paper towels before coating it in the wet batter. 
Lightly press the panko mixture into the chicken when coating to help the mixture adhere. 
If you prefer, you can spray chicken lightly with oil or cooking spray for a golden-brown crust.
Always check for doneness with a meat thermometer. Chicken should reach 165 degrees F / 74 degrees C before removing it from the oven.
Feel free to sprinkle on some herbs like fresh parsley before serving.
Variations
Skip The Mustard – Although the Dijon mustard flavor isn't overwhelming, you can omit.  
Make Them Spicy – If you love spicy baked chicken tenders, add a splash of hot sauce to the wet batter and a sprinkle of cayenne pepper to the dry batter. 
Gluten Free – Use gluten-free flour or cornstarch instead of the regular flour and look for a gluten free breadcrumb or use unsweetened crushed rice cereal or chopped nuts. 
Add Cheese – Add a little bit of parmesan cheese to the breadcrumb mixture. 
Swap The Seasoning – Use your favorite seasoning blend like Italian seasoning in place of the garlic, onion and paprika mixture.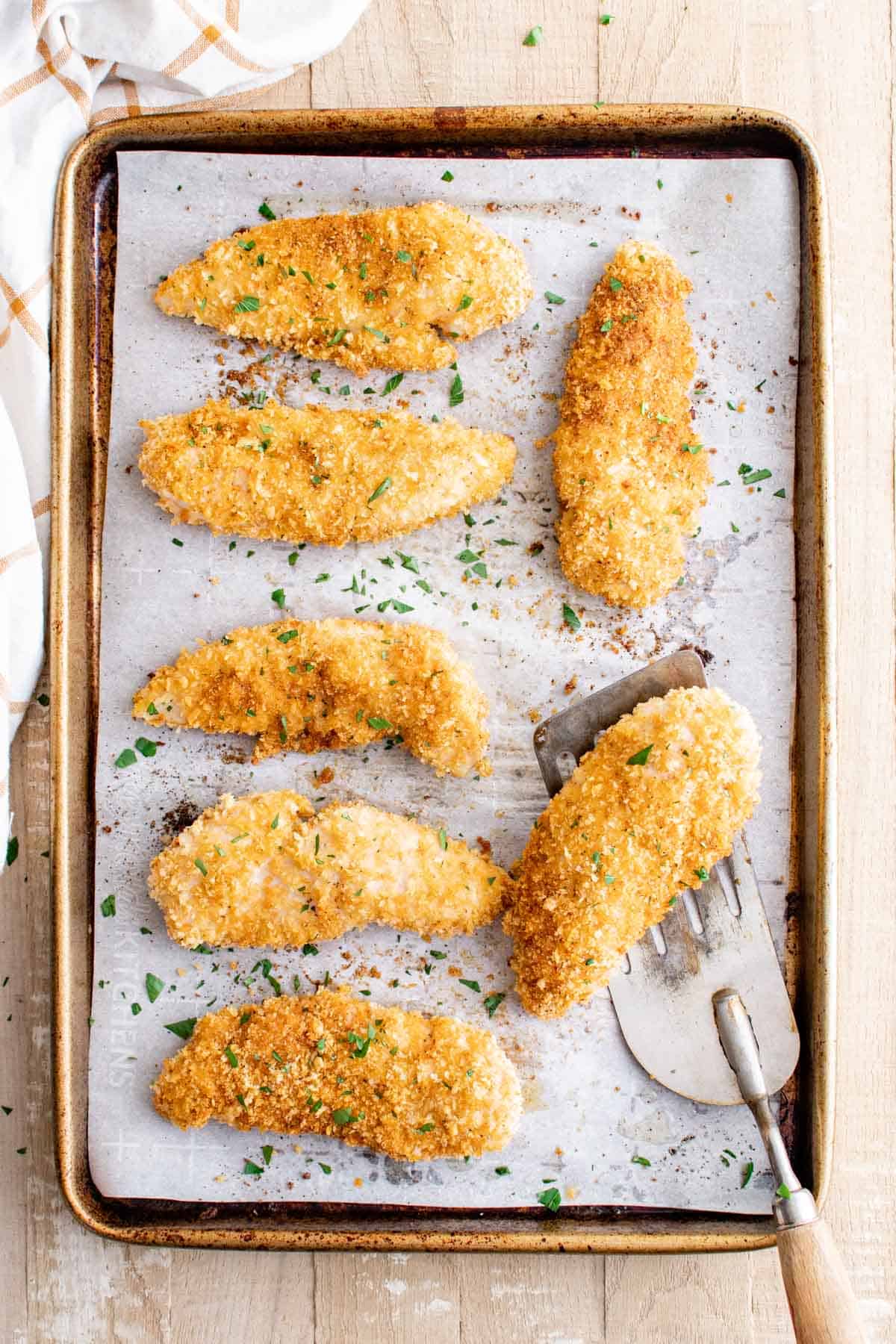 Budget-Friendly Tips
Buy Chicken In Bulk – Purchase chicken in bulk or on sale and store it in the freezer for later use.
Cut Your Own Chicken Tenders – Instead of purchasing chicken tenderloins, cut your own chicken tenders using our handy tips found above. 
Freeze Leftover Chicken Tenders – These freeze well and reheat easily for easy meals and snacks later on. 
Prep Ahead And Storage
Prep Ahead – Make pre-seasoned breadcrumbs and store them in the pantry for easy use later. Simply add them to a bowl to easily coat the chicken, being sure to discard any breading that comes in contact with the chicken. 
Store – You can store breaded chicken in the fridge for up to 3 days and reheated in the oven.  
Freeze – Follow the handy tips below for how to freeze these;

Cool the baked chicken tenderloins and place them on a baking sheet in the freezer. 
Freeze for 2-3 hours, then transfer the individual baked chicken strips to a freezer bag.
Store in the freezer up to 3 months.
To reheat, place frozen chicken on a baking sheet and bake in a 450 degrees F / 230 degrees C oven for 18-20 minutes until heated through. 
Meal Prep
Cook a double batch and have a tasty lunch ready for the whole week.
These keep for 3 days. Eat them the first day and enjoy the leftovers for 3 more days.
Follow our freezing tips and freeze for easy meals at a later date.
FAQs
How Do I Reheat Baked Chicken Strips?
Leftover, refrigerated baked chicken tenderloins can be reheated in a 350F/180C oven for about 5 minutes.

To reheat frozen oven fried chicken tenders, place them on a cookie sheet and bake for 18-20 minutes in a 450F/230C oven.
How Long To Bake Chicken Tenders?
The time will vary slightly (by a minute or 2) depending on the thickness of your chicken strips, but you should plan on about 20 minutes for them to cook through and for the coating to get crispy.
Why Are My Chicken Tenders Chewy?
Chewy chicken tenders are usually the result of overcooking. To avoid overcooking, always use a meat thermometer and remove the chicken from the oven once it reaches 165F / 74C.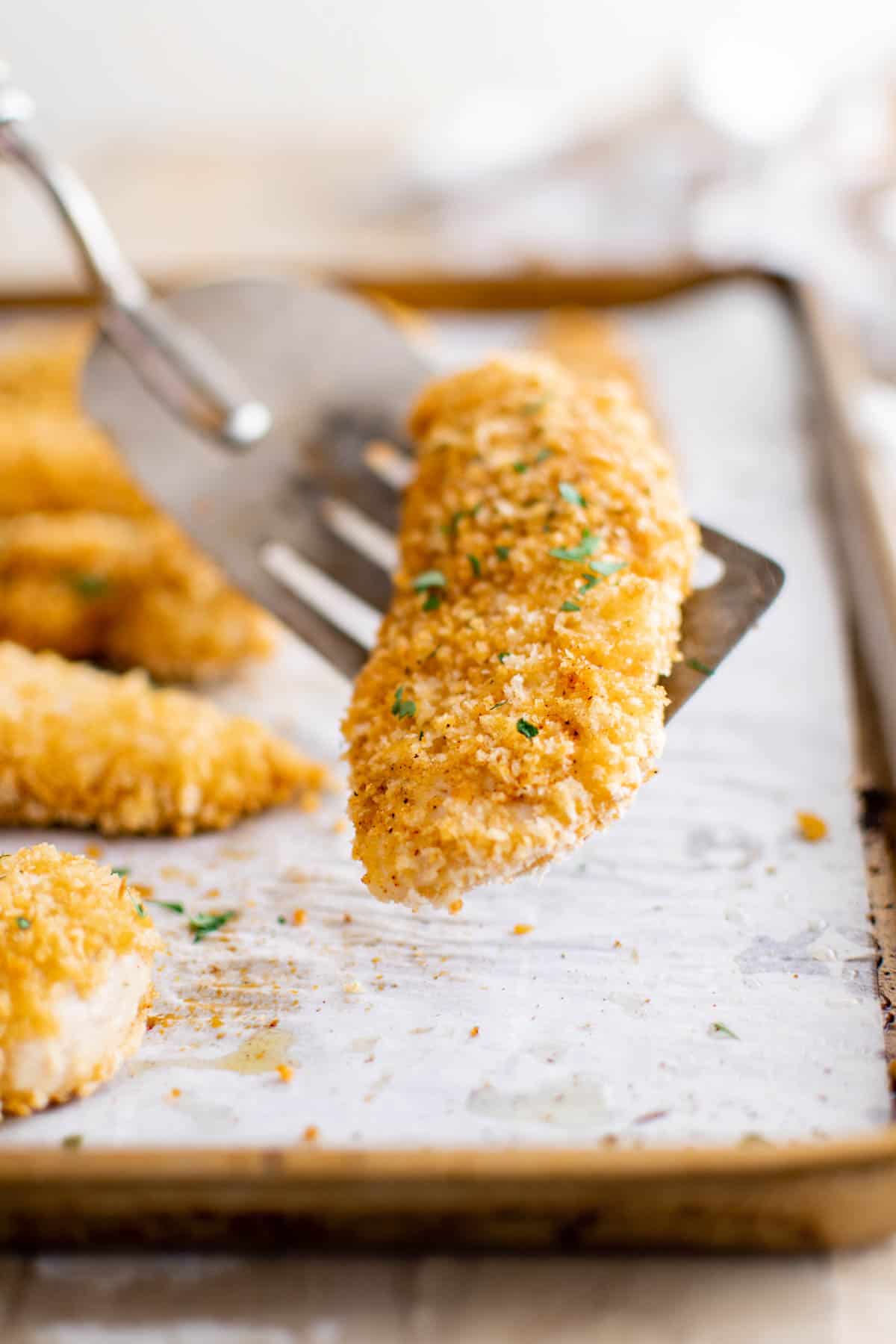 Serving Suggestions
This is great to serve warm with dipping sauces like honey mustard dipping sauce, barbecue sauce, ketchup etc.
More Delicious Recipes You May Like
Want more easy chicken recipes? Then try these below.
Weight Watchers Points
There are 5 Blue Plan SmartPoints in one serving of this.
Subscribe to my Newsletter and follow me on Facebook and Pinterest for more tasty recipes!
Did you make this recipe? Then I would love to hear how it turned out. Please leave a comment and star rating below. And I really appreciate you sharing this recipe with your family and friends. Enjoy every mouthful 😊🍲 – Bintu
Get The Crispy Golden Oven Baked Chicken Tenders Recipe: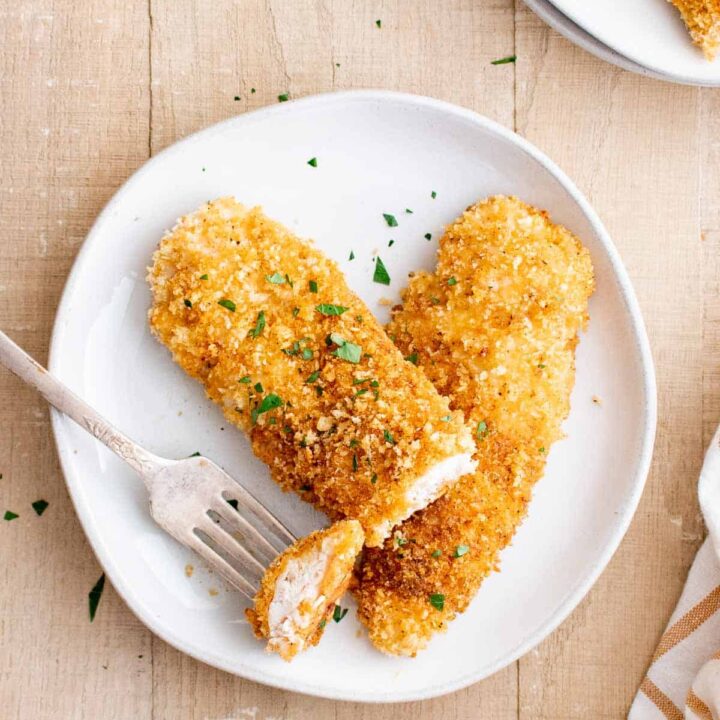 Ingredients
2

eggs

½

cup

(115g) mayonnaise

1

tsp

dijon mustard

¼

cup

(59ml) water

1

cup

(63g) panko breadcrumbs

3

tablespoons

all-purpose flour

1

teaspoon

paprika powder

1

teaspoon

garlic powder

1

teaspoon

salt

1

teaspoon

ground black pepper

1

teaspoon

onion powder

Pinch

cayenne pepper

optional

2

pounds

(907g) chicken tenderloins
Instructions
Preheat the oven to 400F / 200C, prepare a large baking pan with parchment paper, and set aside.

In a shallow bowl, whisk the eggs, mayonnaise, water and mustard together.

In a separate bowl, combine breadcrumbs, flour, paprika, garlic powder, salt, pepper and onion powder.

Dip the chicken tenders into the egg mixture and then into the breadcrumb mixture, lightly pressing the breadcrumbs onto the chicken.

Place the tenders onto the prepared baking pan.

Spray the chicken with olive oil or vegetable oil spray if desired, then bake for 15 – 20 minutes or until cooked through according to a meat thermometer and the tops turn a light golden brown.
Notes
To cut chicken breast into tenders, slice the chicken 'against the grain' and cut it into strips of equal length and thickness

 for even cooking.

Lightly toast the panko in a dry skillet for an even crunchier coating.

Dry the chicken with paper towels before coating it in the wet batter. 

Lightly press the chicken when coating with breadcrumbs to help the mixture adhere to the chicken. 

Spray the chicken lightly with oil for a golden-brown crust. If you skip this step, the chicken will still be crunchy and flavorful.

Always check for doneness with a meat thermometer. Chicken should reach 165F/74C before removing it from the oven.

Storage – keep baked chicken tenders in an airtight container inside the fridge for 3 days.
There are 5 WW Blue Plan SmartPoints in one serving.
Nutrition
Calories:
379
kcal
|
Carbohydrates:
11
g
|
Protein:
36
g
|
Fat:
20
g
|
Saturated Fat:
4
g
|
Polyunsaturated Fat:
9
g
|
Monounsaturated Fat:
5
g
|
Trans Fat:
1
g
|
Cholesterol:
159
mg
|
Sodium:
786
mg
|
Potassium:
630
mg
|
Fiber:
1
g
|
Sugar:
1
g
|
Vitamin A:
303
IU
|
Vitamin C:
2
mg
|
Calcium:
41
mg
|
Iron:
2
mg