Love Mexican Food? You will love this delicious treat. Air Fryer Chicken Taquitos are crispy on the outside with cheesy, creamy filling.
Made with rotisserie chicken and canned corn and beans, you won't be spending a lot of time on meal prep for this easy crispy chicken taquitos recipe.
And because these are not deep fried these are healthier version of the family favorite. Homemade air fryer chicken taquitos are better than frozen taquitos every single time.
These taste just like traditional taquitos except they have fresh chicken and corn with melty cheese and all your favorite ingredients.
You can change it up however you like by adding or removing any of the ingredients to make it your own. If you are tired of chicken try this mouthwatering Meatloaf Dinner, that is juicy and covered in a sweet chili glaze!
And if you love this then try these Air Fryer Southwest Egg Rolls.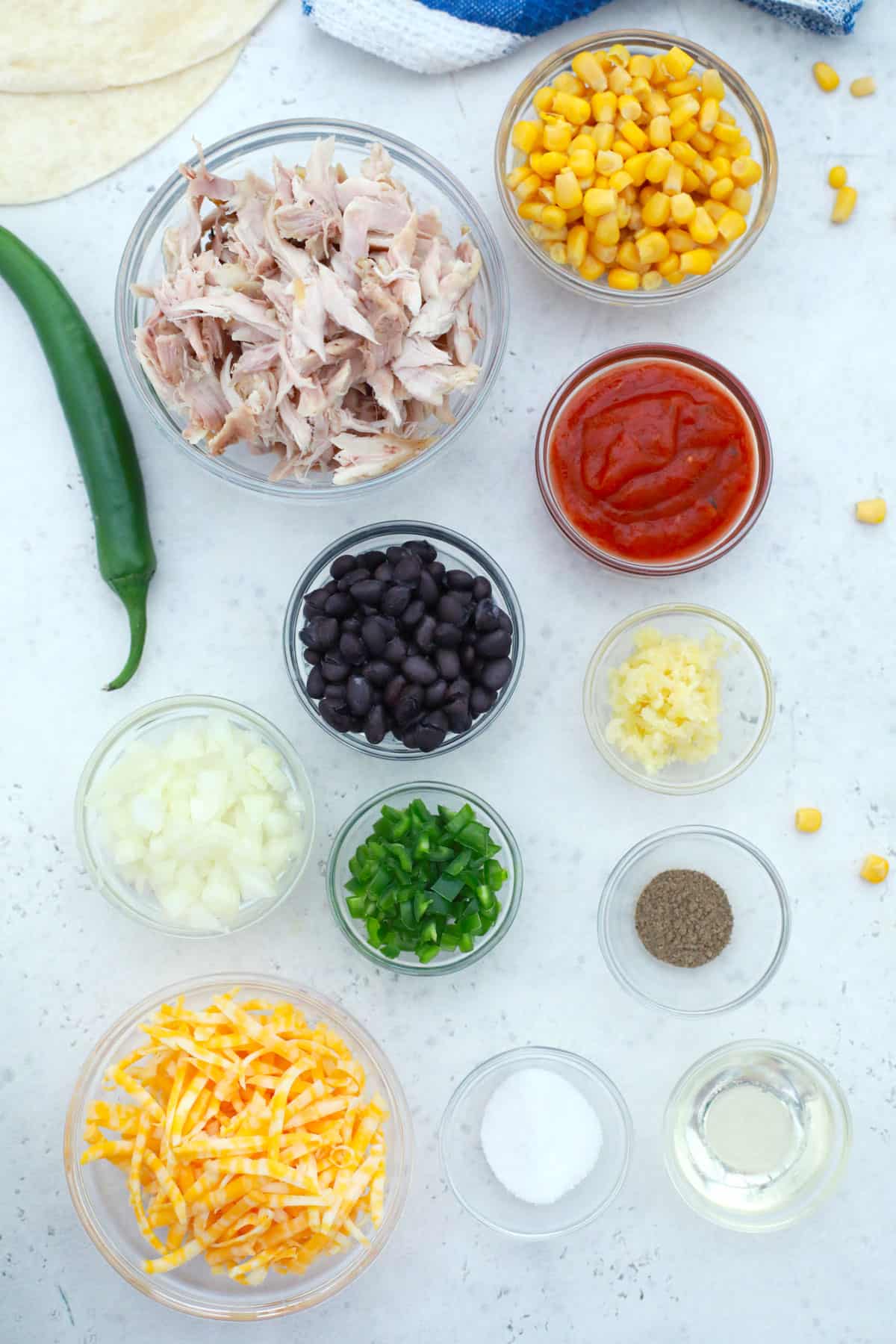 Ingredients Notes
Here are the simple ingredients you need for this easy dinner recipe that the whole family will love. Scroll down for more detailed instructions and the full recipe on our recipe card below.
Vegetable oil: Olive oil or another type of oil will work here too.
Diced onion
Garlic clove: Minced.
Chopped green chiles
Shredded rotisserie chicken: Any shredded chicken will do.
Shredded cheese: Mexican cheese blend.
Black beans: Canned is fine.
Corn: We used canned sweet corn.
Salsa: Store-bought or make your own.
Salt and ground black pepper: To taste.
Corn tortillas: Or flour tortillas.
Oil cooking spray: Olive oil spray is what we used.
How to Cook Air Fryer Chicken Taquitos From Scratch
Cook the filling: First, heat oil in a large skillet or frying pan over medium heat until it is simmering. Then, add the onion and cook for three to five minutes or until it is translucent and soft. Add garlic and cook for one minute.
Add the rest: Next, put in the salsa and green chiles and stir before adding the corn, beans, cheeses. Then add shredded chicken. Continue to cook on medium heat while stirring, for three minutes. Season with salt and pepper.
Prepare tortillas: Then, preheat your tortillas in a skillet or on the grates of the stove until they are soft and pliable.
Add the filling: Immediately, spoon three tablespoons of chicken mixture in the center of each tortilla. Fold over and roll tortilla tightly into a taquito. Place the rolled tacos on a baking sheet prepared with parchment paper seam side down until your air fryer is preheated to 400 degrees F.
Air Fry taquitos: Last, place taquitos in a single layer in your air fryer basket and mist with a little oil. Cook for seven to ten minutes, until they are golden brown. Turn them over and mist again before cooking for three to five more minutes.
Remove and cool: When they are crispy and golden on both sides, remove them from the basket and place on the baking sheet for several minutes to cool.
Serve: Finally, serve your Air Fried taquitos with sour cream and your family's favorite toppings and dips.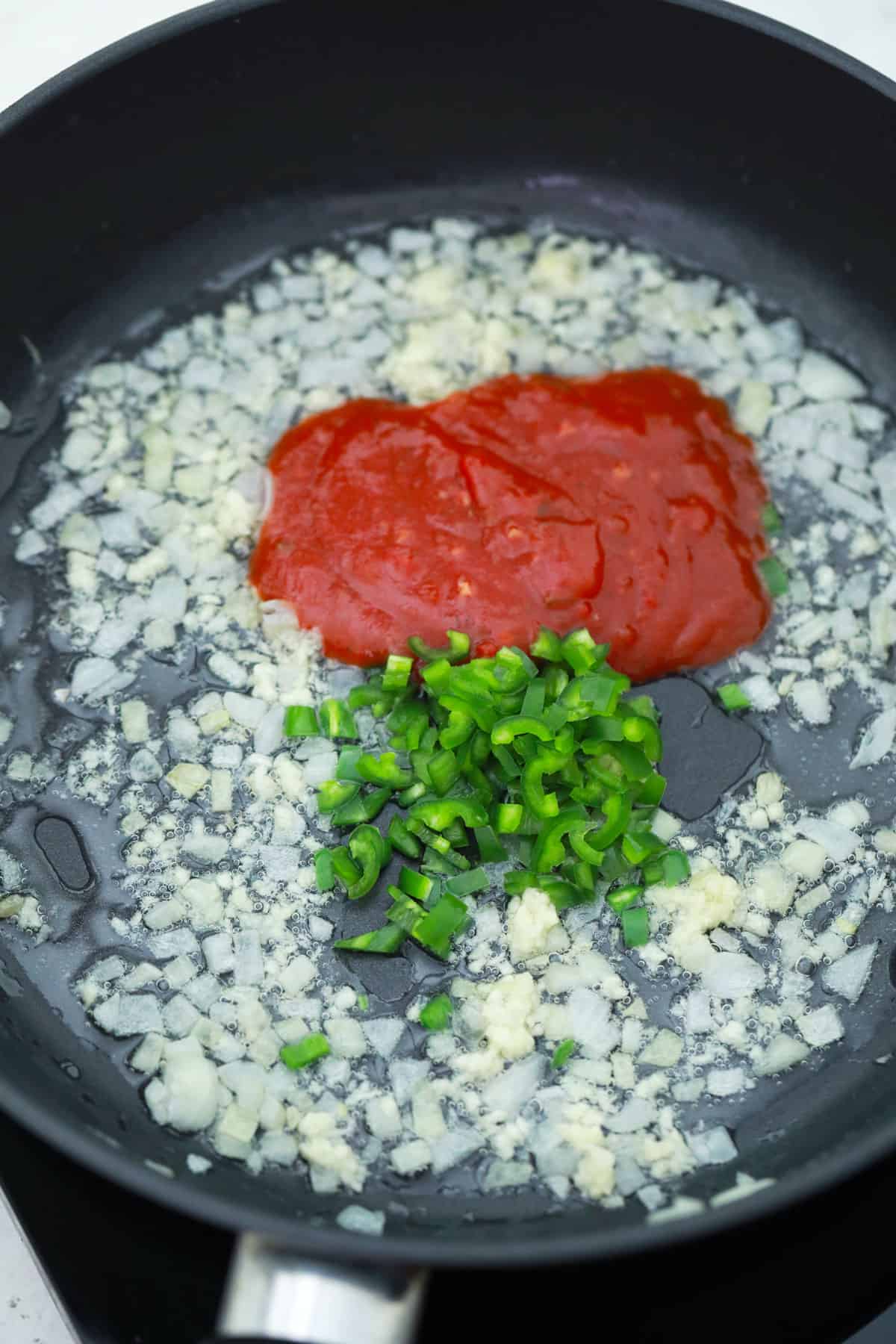 Recipe variations
More cheese: Feel free to add your own favorite cheese blends like shredded cheddar cheese or Colby jack cheese for extra cheesy chicken filling.
More veggies: You can also add your own favorite veggies like mushrooms, bell peppers, and chives.
Garlic powder: If you do not have garlic cloves, you can use one teaspoon of garlic powder.
More flavors: For different flavors, try using chili powder or taco seasoning.
Creamier: Add a block of cream cheese to the filling for extra creaminess.
Other meat: You can also make beef taquitos by adding ground beef instead of chicken.
Buffalo chicken: Or make buffalo chicken Air Fryer taquitos by adding a tablespoon of buffalo sauce to the filling.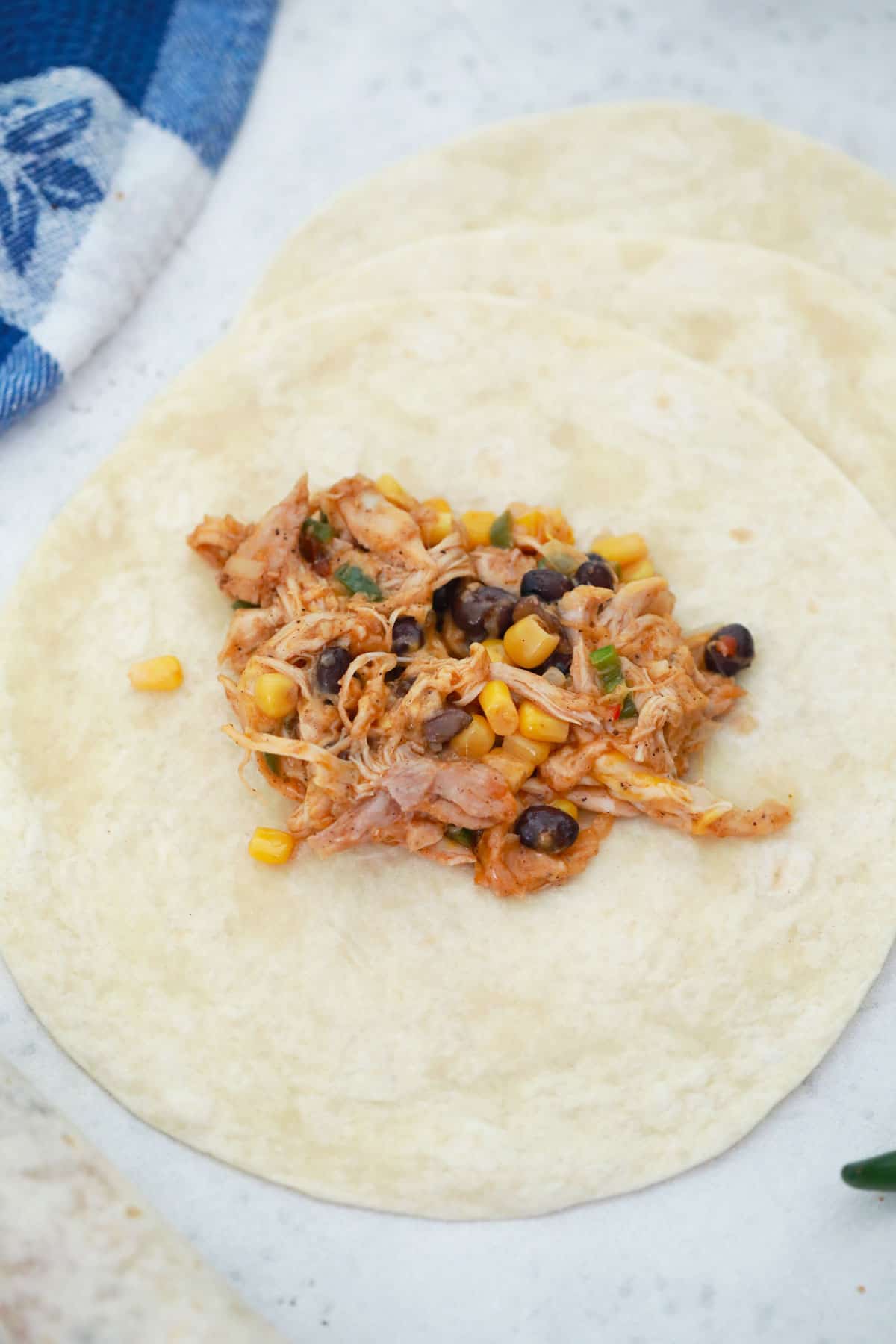 Recipe Tips:
A great way to warm tortillas by wrapping them in a damp paper towel and microwaving for 10-second intervals until they are just barely heated.
If you do not have rotisserie chicken, you can cook chicken breast in a slow cooker until it is tender enough to shred with two forks. This typically takes three to four hours on high.
Make sure the internal temperature of your chicken is 165 degrees F before shredding.
You will probably have to cook in batches depending on the size of your air fryer. Keep cooked taquitos warm in the oven set on low heat.
For a vegetarian meal, just leave out the chicken and add more beans.
Storage
Store: Although they are best eaten right away, leftover taquitos can be stored in the fridge in an airtight container for five days.
Freeze: You can also store these in the freezer for up to three months in a freezer bag.
Thaw: For best results, defrost these in the fridge overnight before serving.
Reheat: Taquitos will likely get soggy after refrigerating or freezing so use the air fryer to reheat them. It only takes a few minutes at 400 degrees F to crisp them right up.
FAQs
Do you need to preheat your air fryer?
It is a good idea to preheat your air fryer to get crispy taquitos. When it is preheated, the air temperature is high right from the start, giving it the crispiness you want for this recipe.

If your fryer does not have a preheat button, just turn it to the desired temperature for five minutes before you place taquitos inside. 
Should I spray oil on my air fryer basket?
Even if your air fryer instruction guide says you can use spray oil, it is best not to use aerosol cans. According to users, many spray oils such as Pam have caused chipping due to the harsh ingredients they have.

Use an oil mister or a BBQ brush to spread a little oil onto the air fryer basket instead.
What is the best kind of chicken for this recipe?
Using leftover chicken from last night's dinner or rotisserie chicken is the best part about this homemade chicken taquitos recipe.

However, feel free to use any kind of chicken you like such as chicken breast or thigh meat, cooked to 165 degrees F and shredded.
Serving Suggestions
Serve these homemade taquitos with sour cream or whatever your favorite toppings and dips may be. Or try one of these ideas:
Add a dollop of guacamole to your taquito before serving.
This is a great way to use up any leftover chicken you have.
Some of our favorite dips are salsa verde, bean dip, queso blanco, and melted nacho cheese but you can use your own favorites.
Serve with tacos for Taco Tuesday at work or at home.
Use leftovers for a taquito casserole. Just chop them up and add to any casserole recipe.
Although these make a great appetizer or snack, you can make them a meal by adding white or brown rice, refried beans, or cheesy jalapeno poppers.
You can also serve these with French fries as a quick lunch for the kids.
More Recipes You Would Like
Want more tasty recipes then try these below.
Get The Air Fryer Chicken Taquitos Recipe
Ingredients
1

tablespoon

vegetable oil

2

tablespoons

diced onion

2

cloves

garlic

minced

2

tablespoons

chopped green chiles

1

cup

shredded rotisserie chicken

½

cup

shredded Mexican cheese blend

1/4

cup

black beans

1/4

cup

sweet corn

1/4

cup

salsa

medium to hot

salt and ground black pepper to taste

6

corn tortillas

oil cooking spray
Instructions
Place a large skillet over medium heat and add oil.

Add onion and cook until soft and translucent, 3 to 5 minutes.

Add garlic and cook stirring for about 30 seconds.

Next, add green chiles and salsa, stir.

After that, add shredded chicken, Mexican cheese, beans, and corn. Season with salt and pepper. Cook and stir for about 3 minutes.

In a clean skillet heat tortillas in a skillet until soft and pliable.

Next, add about 3-4 tablespoons of the chicken mixture down the center of each corn tortilla. Fold over and roll into taquitos.

Preheat an air fryer to 400 degrees F.

Arrange the taquitos in a single layer in the air fryer basket, not touching, lightly spray with cooking oil.

Air fry until golden brown, 7 to 10 minutes. Turn over, spray again with oil, and air fry until crispy, 3 to 5 minutes.

Serve with salsa, guacamole, and sour cream.
Nutrition
Calories:
185
kcal
|
Carbohydrates:
16
g
|
Protein:
16
g
|
Fat:
7
g
|
Saturated Fat:
3
g
|
Polyunsaturated Fat:
1
g
|
Monounsaturated Fat:
1
g
|
Cholesterol:
47
mg
|
Sodium:
297
mg
|
Potassium:
138
mg
|
Fiber:
3
g
|
Sugar:
1
g
|
Vitamin A:
138
IU
|
Vitamin C:
3
mg
|
Calcium:
92
mg
|
Iron:
1
mg